Layla Robinson Design
Beautiful cut flowers fresh from the Welsh Marches
The Robinson family live completely surrounded by flowers. What started-out as Laylas' cut-flower hobby has become a quite literally budding business! Layla is a real flower addict and the flower business has been lovingly incorporated into the family garden, where the flowers mix harmoniously with fruit and vegetables, in which the family are almost totally self-sufficient.
The result is an explosion of colour and rampant productiveness, and Layla has become known for her vibrant colour schemes and bright bouquets, which she sells at Hay's weekly Farmers Market and makes available for weddings, parties and other celebrations, trading under the name Darling Buds of Hay.
Read more on Instagram: @laylarobinsondesign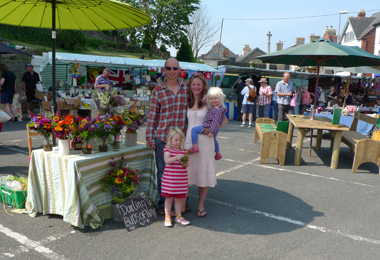 Find us at Hay Market
We have a stall at the traditional market, held on Thursdays in the Memorial Square in Hay-on-Wye.
From 8am to mid afternoon.